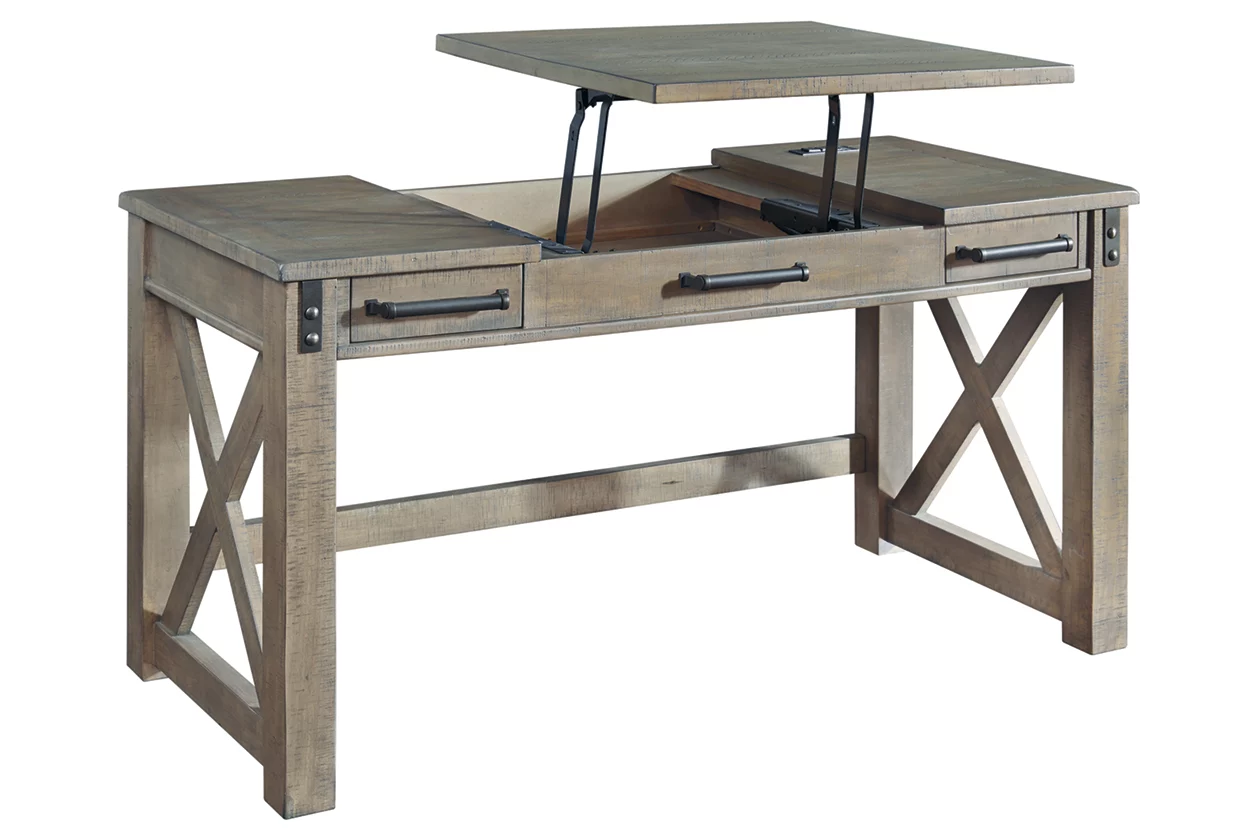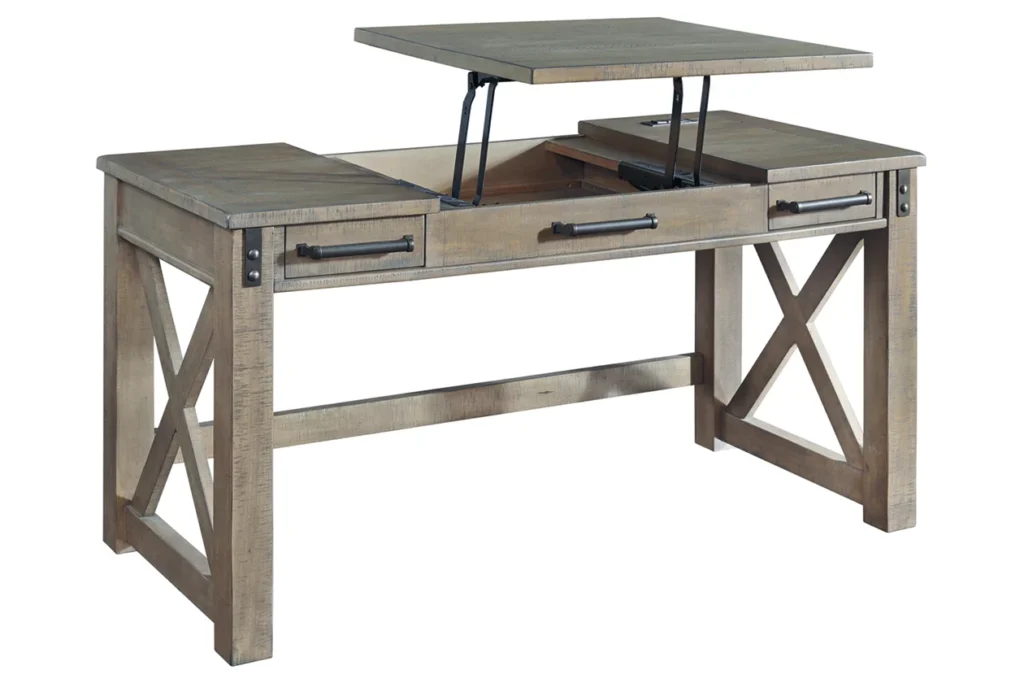 Specifications
Dimension: 28"×60"×31"
Shape: Rectangular
Style: Rustic And Casual
Material: Pine veneers, pinewood, and engineered wood
Storage: 2 drawers
Extra: USB Charging Ports Included
Summary
You can easily convert your workspace from a standard desk height to a standing desk with this Aldwin lift top desk. It has a solid wooden construction and a great look with a grey finish.
This big table contains two dovetail drawers and has a built-in electric outlet and two USB charging ports. So, you can plug in your devices easily.
The assembly is super easy and the best part is you'll get a great one for the price.
Thing I Like
It has a rustic look that increases the beauty of your home office
Smooth gliding drawers with Dovetail Construction
The desk is very easy to assemble
It comes with an electric outlet
Things I Don't Like
The instructions are very complicated.
The grey finish scraps off easily with time.
Features Details
Now let's look at the features of this desk with details.
Work Sitting And Standing
Sometimes we have a long workday and we feel boring sitting on a chair all day. This lift-top desk lets you work both standing and sitting.
Whenever you feel fatigued, you won't have to change your workspace. Just lift the desk up and stretch your body while standing and working.
Sturdy Construction And Design
The desk is made of pine veneers, wood, and engineered wood. The construction is sturdy and durable.
The design is also good. It has dovetail drawers and a part in the center which can be raised.
However, if your pc is bigger than 20 inches, it won't come in any use as the length of this raised part is 20 inches.
Aesthetic Country Look
Most of the users like the look of this desk. This wooden desk has a distressed gray finish which gives it a rustic look.
Along with this, the industrial brackets create appeal. So, this desk will increase the beauty of your home office.
Again, a good look also helps increase concentration and productivity.
Easy Assembly
This desk is one of the easiest to assemble. You won't even have to take the help of the directions to assemble it.
It's all about screwing in a few pieces as most of the parts already come assembled in the package. The screwdriver won't come included. Nevertheless, it is very sturdy.
Big Space
The desk is huge for any small home office. It is 60 inches wide, 28 inches deep, and 31 inches high. So, you can accommodate your pc and all other peripheral stuff on it.
However, what it lacks is storage space. Although it has two small side panels and two dovetail drawers, some customers weren't satisfied with this.
Electrical Outlets
Electrical outlets are one of the top priorities we want from a home office. Obviously, we install outlets. But this desk comes with an electrical outlet.
It is designed with two USB charging ports. So, you can easily plug your lamp in or charge your device with its electrical outlets.
Affordable
Finally, the price is also not much. You'll get this desk within $350 to $400. The facilities you'll get from the desk will surely make the expense worth it for you.
The desk is good enough for your home office. You'll get great features. However, it's never the best or the perfect one.
So, if you can spend more money, you can look for a better one. But it is obviously a great one within this budget.
Final Verdict
Total Score: 9.4
This outstanding table can meet all your needs.
If you are looking for a table that offers both standing and sitting, you should go for this Aldwin home office lift top desk.
The construction is sturdy and durable. The monitors smaller than 60″ are suitable for this table. This wooden desk has a distressed gray finish which gives it a rustic look.
Above all, the best part is it won't break your bank!
Features Rating:
Looks: 9.5
Space: 9.2
Storage: 8.5
Construction: 9.5
Price: 9.3