Ever since the COVID outbreak, we've seen home offices on the rise. This trend persisted even after the virus was done with its fair share of damage. So many people have come up with their own startup too.
Now the center of it all, is a monitor. So, it raises the question, what is the best budget monitor for your home office? And is it worth it?
I have saved you the research work in this article. Here are the reviews of some of the best budget monitors for home office. We dive deep to the insights here. So read on for your perfect home office monitor in a budget.
Is Budget Monitor Worth?
For the office? Depends on the task. Here's a brief explanation:
The utilization of a monitor is dependent on the work. Cheap monitors perform admirably as general-purpose displays when utilized within their limits. They are not the greatest solution for tasks requiring fine graphic detail and color representation, as well as gaming.
The finest affordable monitors provide a wealth of features and benefits without breaking the bank. They also offer outstanding displays, adequate brightness, realistic colors, VESA-mount compatibility, and more for a low price.
What Size Monitor is Good for Your Home Office?
Essentially, you're seeking for pixels that don't fade out when viewed on a wider screen. A wide screen and clear 3D image quality are required to appreciate the 4K details.
However, there are certain advantages and disadvantages to the size. Our goal is to choose the one that has more advantages than disadvantages.
The first step is to determine the appropriate screen size and resolution. Having greater screen area allows you to see and accomplish more, which leads to increased productivity. Most office work, such as emails, internet browsing, and Microsoft Office projects, need a screen size of 24 to 32 inches.
Screen size and resolution are inextricably linked. Users will see more realistic and crisper visuals with more pixels per square inch of display.
For larger monitors, a higher resolution is suggested. For example, 27-inch QHD (2560 x 1440), 32-inch 4K (3840 x 2160), and 34-inch WQHD (3440 x 1440) displays with more than 100 pixels per inch are recommended.
If you need additional screen area, you should consider purchasing multiple monitors.
You can also choose a wide curved monitor with a screen size of 34 to 49 inches. Monitors with ultra-thin bezels are perfect for constructing seamless multi-monitor setups, as bezel breaks are less distracting.
Top 5 Budget Monitors: My Honest Review
Here are my top picks on budget monitors for your cozy and productive home office:
| | | | | | |
| --- | --- | --- | --- | --- | --- |
| Product | 4K Top Choice – LG 27UK650-W 27" Inch | 1080p Top Choice – Dell P2219H monitor | Best Budget – Dell SE2422HX – 23.8-inch | High End –BenQ PD2500Q 25 inch QHD | 1080p Basic –ASUS VS228H-P monitor |
| Color Quality | sRGB 99% Color Gamut | NTSC 72% Color Gamut (100% sRGB) | sRGB 100% Color Gamut | sRGB 100% Color Gamut & Rec. 709. | NTSC 72% Color Gamut (100% sRGB) |
| Other Notable Techonolgy and Features | DAS Mode, HDR10, 3-Side Virtually Borderless Design, Factory Calibration, AMD FreeSync™, Black Level, On Screen Control, Six Axis Control, Flicker Safe. | TUV3 Certified, flicker-free screen with ComfortView, VESA, USB 3.0. | Anti Glare Screen, Adaptive Sync, Blue Light Filter, Tilt Adjustment, Flicker-Free, VGA, HDMI | Darkroom, CAD/CAM, and Animation modes, AQ Colour. | Maximum Contrast Ratio 50,000,000:1, Video Intelligence Technology, Green Technology. |
| Port | HDMI 2.0, HDCP, DisplayPort | HDMI, DisplayPort, USB-upstream port and USB-downstream. | HDMI 1.4 | Universal HDMI, Displayport, Mini Displayport, USB 3.1 Gen1 | HDMI |
| Refresh Rate | 60 Hz | 60 Hz | 75 Hz | 60 Hz | 75 Hz |
| Response Time | 5ms (GtG) | 8ms (GtG) | 5ms (GtG) | 4ms (GtG) | 5ms (GtG) |
| Price | From $356.99 | From $399 | From $289.99 | From $328.35 | From $488.07 |
4K Top Choice – LG 27UK650-W 27" Inch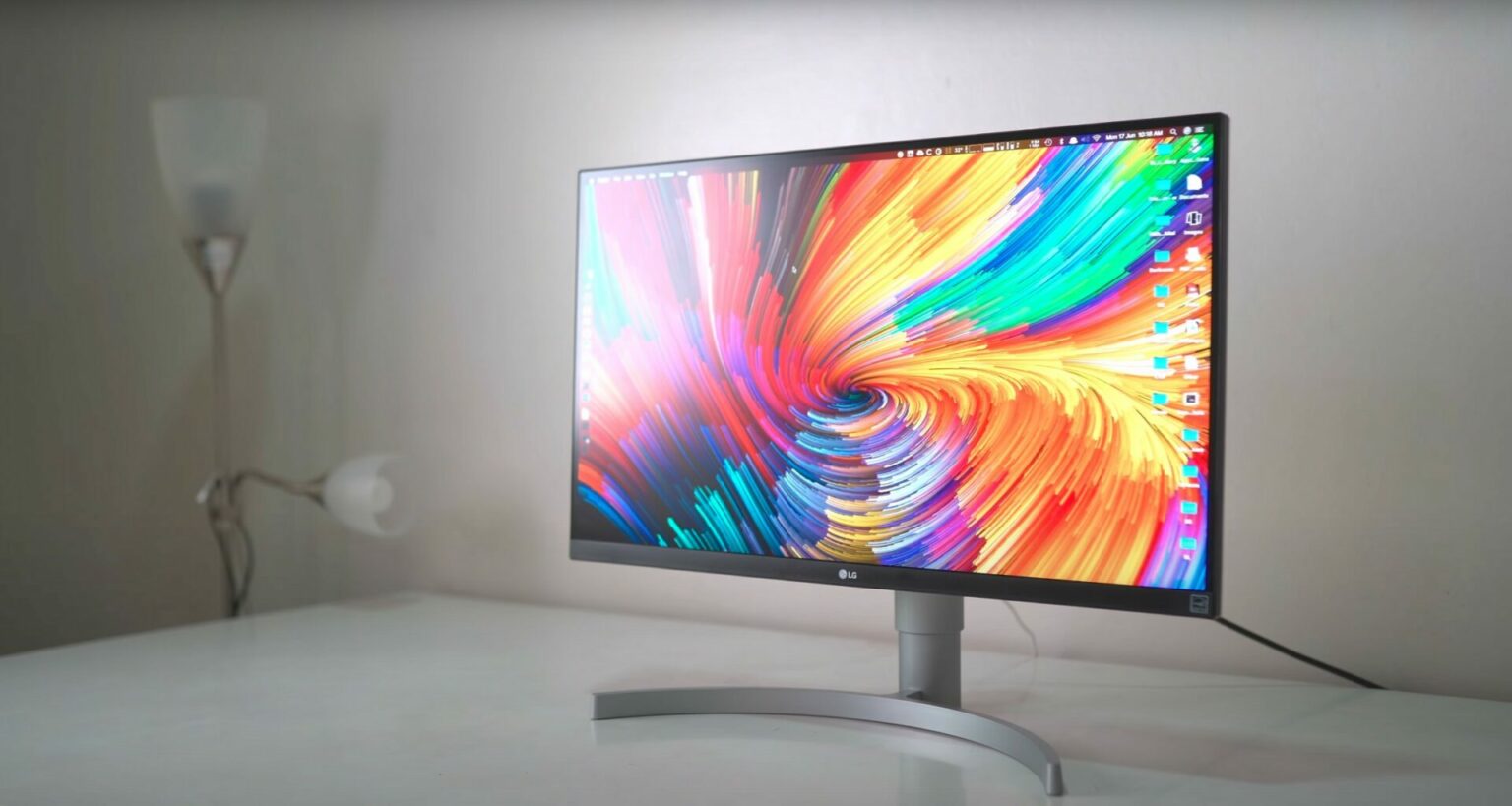 Key Features:
Aspect Ratio: 16:9
Pixel Pitch: 0.1554 Mm
Brightness: 450 Cd/M²
Color Support: 1.073 billion Colors
Resolution: 4096 x 2160
This monitor has a high resolution that clearly displays every detail. It has as a wide viewing angle. Besides, the monitor supports AMD FreeSync technology, which is an excellent choice for 4K console or PC gaming.
Contrast and Colour Accuracy
Content creators will appreciate the monitor's ability to reproduce contrast and brightness for editing and previews. Especially those working with HDR content.
In addition, the monitor covers 99 percent of the sRGB spectrum, making it an excellent choice for graphic designers, photographers, and anyone looking for highly accurate color.
This means that the black tones will be less vivid than on a VA panel display with a static contrast ratio of 3,000:1, but the colors will be more vibrant and lively.
Furthermore, IPS panels have 178-degree viewing angles and a fast response time speed of 5ms (GtG). This is sufficient to eliminate all trailing of fast-moving objects at 60Hz.
4K resolution results in a high pixel-per-inch ratio of 163 PPI on a 27′′ screen of the LG 27UK650 monitor. This allows for a lot of screen real estate and sharp details.
Performance
The LG 27UK650 4K monitor supports HDR, along with an increase in peak brightness from 350 to 450 nits.
Yet, you won't notice a significant improvement in HDR picture quality because the display lacks a wide color gamut and local dimming. However, this would increase the contrast ratio.
I would recommend a monitor with at least VESA's HDR600 certification for a good HDR viewing experience. Although these displays are naturally more expensive. These monitors lack VESA's entry-level HDR400 certification.
Connectivity & Design
The LG 27UK650's stand is reasonably ergonomic, with up to 110mm of height adjustment, a -5°/15° tilt, a 90° pivot, and 100x100mm VESA mount compatibility. The screen cannot be swiveled to the left or right.
Two HDMI 2.0 ports, DisplayPort 1.2, and a headphone jack are among the connectivity options. Both FreeSync and HDR are supported via HDMI and DP. It's worth noting that you can use FreeSync and HDR at the same time.
The Good
Multitasking is possible due to its high resolution and size. It delivers vibrant and consistent colors. The details are sharp and vivid. The input lag is low and response time is quick. Has AMD FreeSync.
The Bad
There is no swivel option for the stand. Lacks a wide color gamut. Has a low contrast ratio for HDR.
Summary
The LG 27UK650-W is a good monitor that has a high resolution and allows you to see fine details. The monitor supports HDR, but it lacks a wide color gamut.
However, it will increase the overall productivity of your home office. Its large screen and wide viewing angles will give you more space to work on in your home office.
1080p Top Choice – Dell P2219H monitor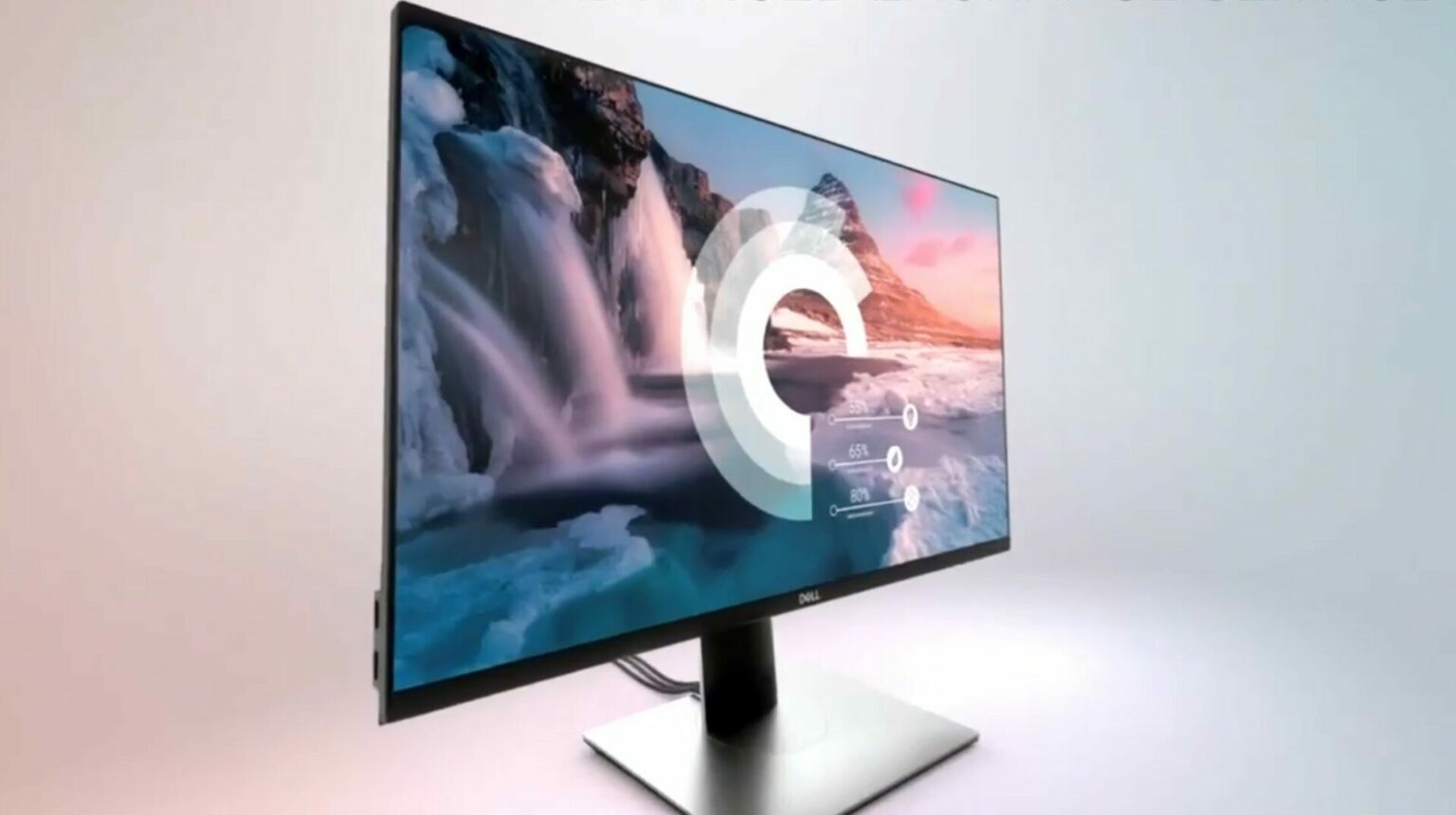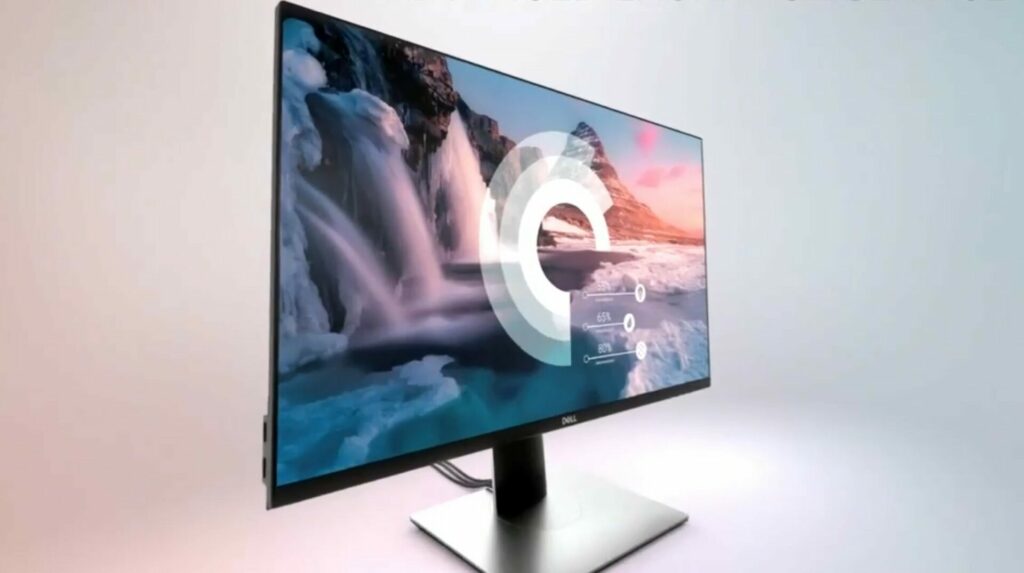 Key Features:
Panel Type In-Plane Switching (IPS) Panel.
Resolution: 1920 x 1080 Full HD
Static Contrast Ratio: 1000:1
Brightness: 250 cd/m²
Viewing Angles:178°/178°
Color Support: 16.7 Million.
This Dell 2219H outperforms expectations on every level. In a 1080p system, it provides clear text, good brightness, and reasonably good color rendition. Microsoft Office, particularly Word and Excel, YouTube, and surfing
Ergonomic Design
First of all, it is large enough screen for office. At the same time, does not take a lot of space due to its bezel being non-existent on the top and sides and minimal (.5 inch) on the bottom.
The monitor takes up very little desk space for its display area, both visually and physically. It is extremely easy to set up as well!
Picture Quality
While the balance with no adjustments is perfect. It is unquestionably bright. It has no banding, hotspots, IPS "glow," or stuck pixels.
It also comes with settings where you can go to comfort mode which is much easier on the eyes.
Moreover, its wide viewing angle that is enabled by In-Plane Switching (IPS) technology allows you to see vibrant colors no matter where you sit.
The Good
Good quality picture and ergonomic. The base is strong and extremely adjustable (height, swivel, pivot & tilt). Furthermore, they provide a plethora of ports (HDMI, Display Port, and d-sub VGA) as well as cords.
The Bad
The only bad aspect seems to be its low resolution. It's '1080p' as some say. Moreover, it may not be suited to gamer folks. Additionally, it does not offer good scaling. 100 pixels per inch.
Summary
Within a good budget, you will get excellent performance with this monitor. Performance longevity is also noteworthy. The color and size are mind-blowing. If you are not going to use it for daily scaling work and other highly sophisticated work, go for it.
Best Budget – Dell SE2422HX – 23.8-inch monitor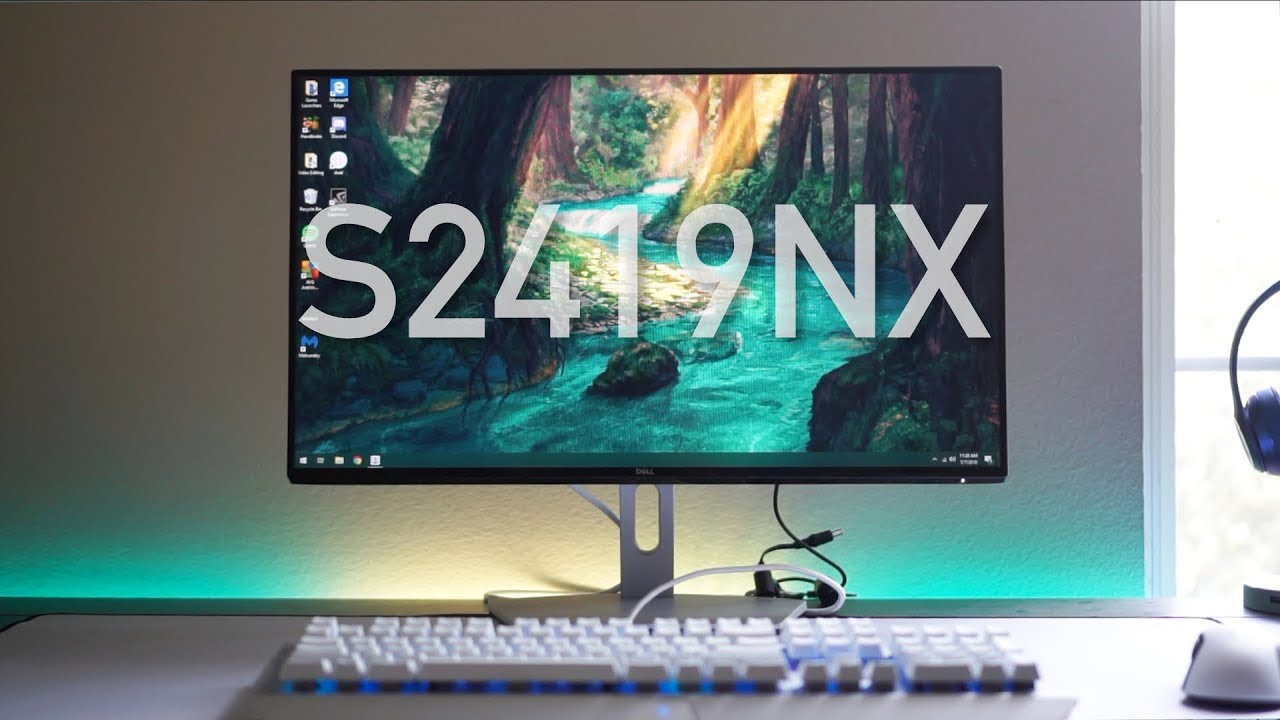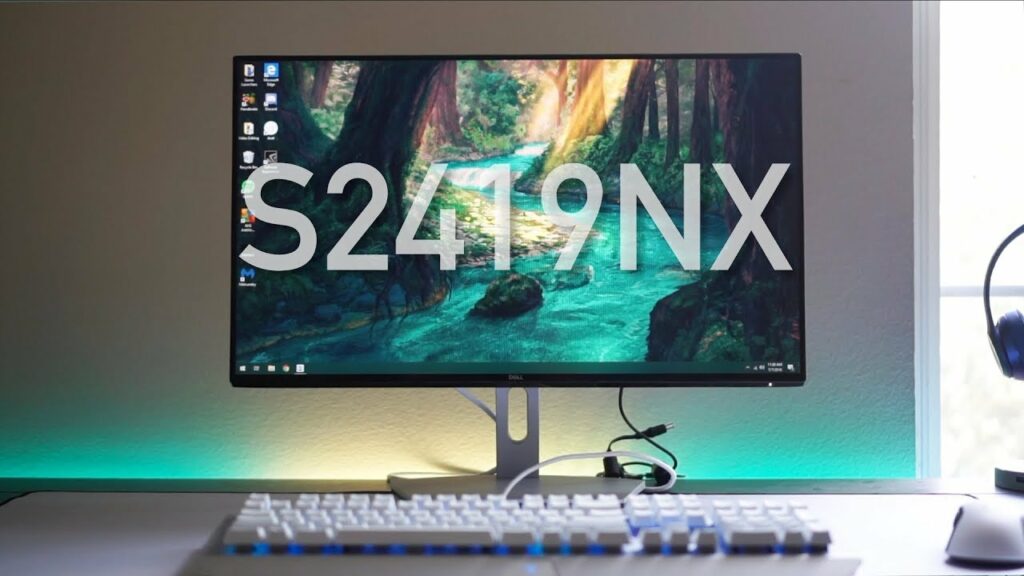 Key Features:
Panel Type: IPS
Resolution: Full HD (1080p) 1920 x 1080
Brightness: 250 cd/m²
Contrast Ratio: 3000:1
Colour Support: 16.7 million colors
Screen Coating: Anti-glare 3H hardness
Dell's TUV-certified Comfort View feature helps to reduce eye fatigue by reducing harmful blue light emissions. Not only that, but it also has eco-friendly power-saving features.
Picture Quality and Sharpness
The 1920×1080 Full HD resolution delivers a decent pixel density of 92.56 PPI (pixels per inch). This enables you to get fairly sharp details and text, as well as a good amount of screen real estate.
The static contrast ratio of the Dell SE2422HX is 3,000:1, while most IPS monitors have a contrast ratio of 1,000:1. As a result, you get darker blacks and brighter whites, resulting in a more immersive viewing experience.
Colour, Brightness and Performance
The Dell SE2422HX has a maximum brightness of 250 nits. This is typical of a budget monitor.
The monitor covers 72 percent of the NTSC color space, which is roughly equivalent to a gamut size of 100 percent sRGB.
The Dell SE2422HX has a pixel response time of 5 milliseconds (GtG). Normal (12ms), Fast (8ms), and Extreme (8ms) are the three reaction time overdrive options (5ms).
The Good
The screen can be tilted -5°/21° or VESA mounted using the 100x100mm pattern. One HDMI 1.4 port and a VGA input are available for connectivity. It has a delay of less than 10 milliseconds, which makes input lag virtually undetectable.
The Bad
You can only use FreeSync with NVIDIA graphics cards because the monitor only supports HDMI and VGA inputs.
Despite both technologies specifying 178° horizontal and vertical viewing angles, one of the disadvantages of VA panels over IPS panels is that the viewing angles aren't quite as wide.
Summary
The Dell SE2422HX is a good 24′′ 1080p VA monitor that supports AMD FreeSync up to 75Hz via HDMI. It's a good monitor for everyday usage, watching movies, and gaming, but it's simply too expensive for what it provides.
High End -BenQ PD2500Q 25 inch QHD monitor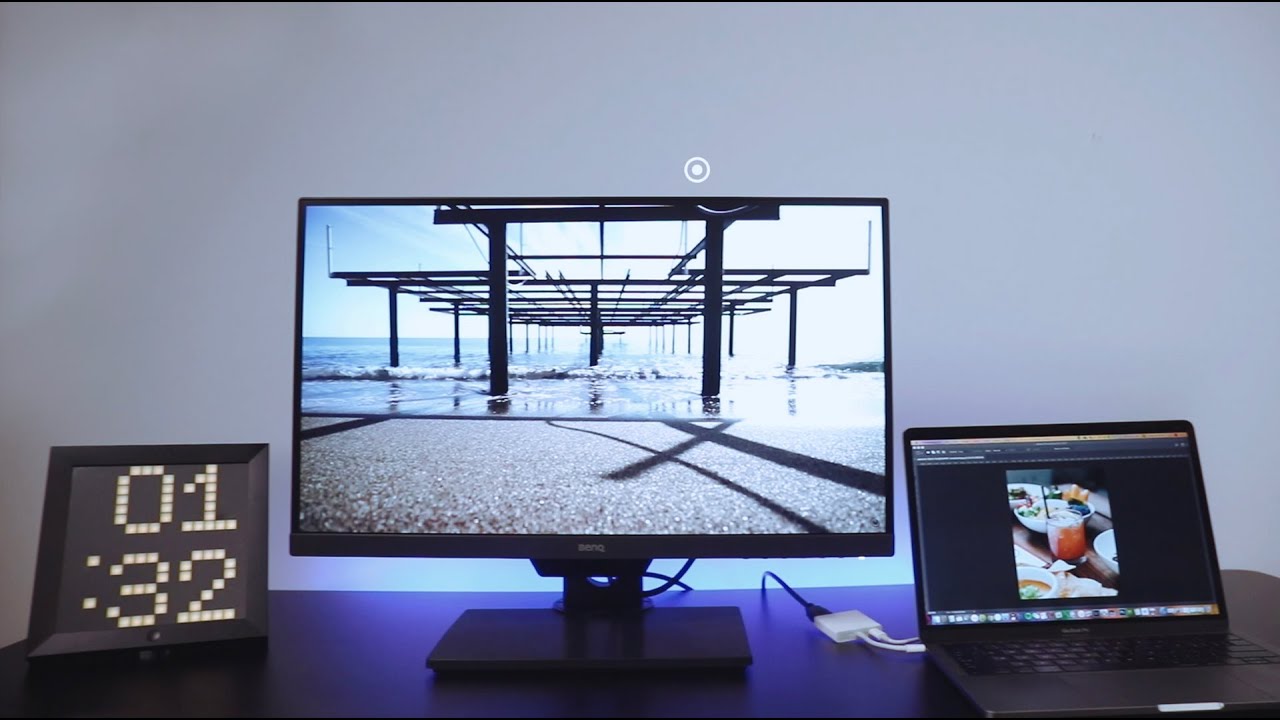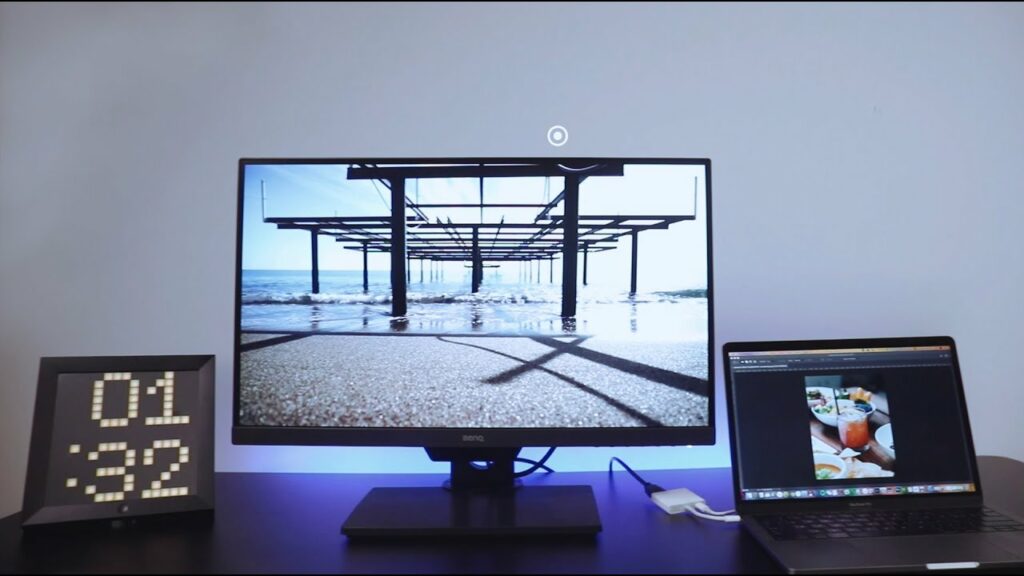 Key Features:
Panel Type: IPS
Backlight Technology: LED backlight
Resolution (max.): 2560×1440
Brightness: 350nits
Native Contrast: 1000:1
Viewing Angle: 178°/178°
Display Colors: 16.7 million color
Display Screen Coating: Anti-Glare
The BenQ PD2500Q Designer Monitor is a 25-inch 2K/QHD display. Individual factory calibration, according to BenQ, ensures accurate colors right out of the box. It is a monitor built for designers, photographers, and digital artists.
Colour and Picture Quality
The purpose of BenQ's PD displays is to provide digital creatives with "ultra-precise color rendition." In practice, this means the monitor is Technicolor-certified and supports 100% sRGB and Rec.709 color gamuts.
Colors are accurate and consistent throughout the display. There is no significant bleed at the edges or corners, and the backlight is well distributed.
Some of the colours and tones that the AdobeRGB space captures better than sRGB will be lost. However, unless you're acclimated to a wide-spectrum panel, you won't notice the difference.
Optimization
On the monitor, the BenQ PD2700U offers built-in preset settings for CAD/CAM, Animation, and Darkroom.
Darkroom Mode prioritizes image sharpness and clarity. There's also a "M-Book" mode, which tries to replicate the response of a MacBook screen.
The Good
Color accuracy is guaranteed right out of the box thanks to factory calibration. IPS panel with LED backlight in 2K QHD (2560×1440). HDMI, Display Port, MiniDP, and Daisy Chaining provide ample connectivity.
The Bad
A common complaint is the low refresh rate. The 'sensor chin,' housing the proximity and light sensors, protrudes an extra 16mm below the already 20mm bottom bezel when the screens are rotated into a portrait position.
Summary
If you're an amateur photographer looking to upgrade to a monitor that will do your photos justice, or if you're a pro looking to go multi-screen without breaking the bank, the BenQ PD2500Q, with the individual factory calibration is a great option.
1080p Basic -ASUS VS228H-P monitor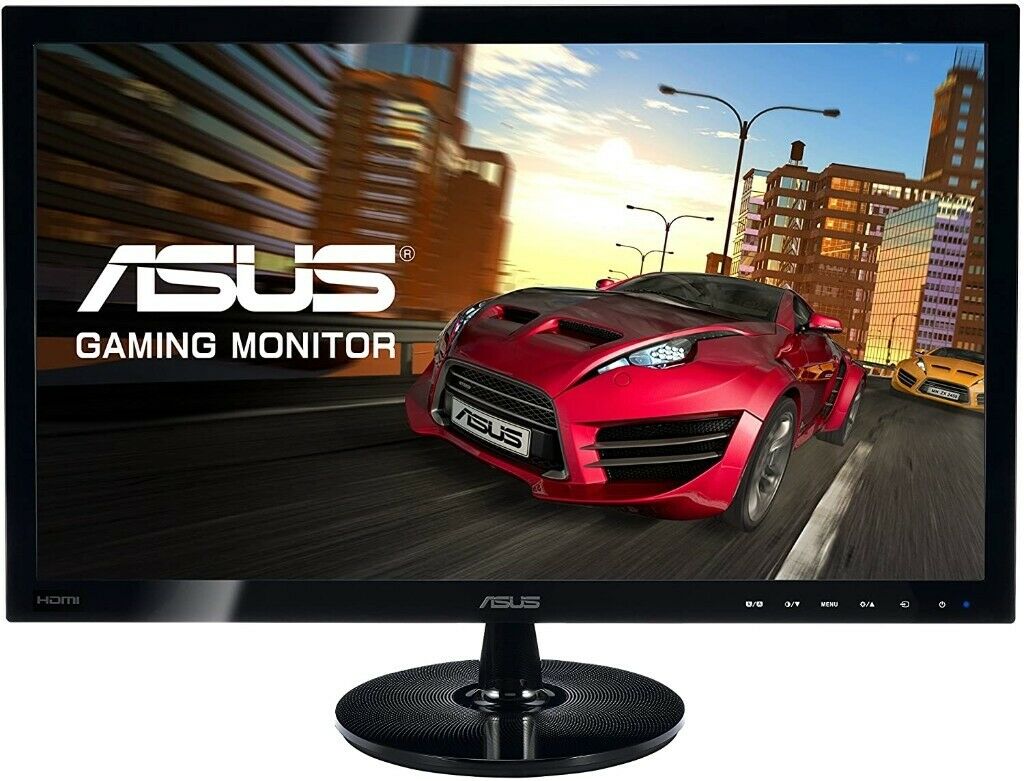 Key Features:
Panel Type : TN
Panel Backlight : LED
True Resolution : 1920×1080
Display Surface : Non-Glare
Brightness (Typ.) : 250cd/m2
Contrast Ratio : 50,000,000:1
Viewing Angle : 170°/ 160°
With a 50,000,000:1 high contrast ratio and HDMI interface, the VS228H Full HD LED display is optimized for the best image and color quality. This concept is carried over to the strong stand and sleek design, which ensures stability and longevity without sacrificing style.
Video Intelligence
A hotkey can be used to select one of six preset video modes (Scenery, Theater, Game, Night View, sRGB, and Standard). Splendid Video Intelligence Technology enhances color, brightness, contrast, and sharpness to improve video performance and image quality.
EyeCare Technology
To reduce flickering, it employs sophisticated dynamic backlight adjustment. The Asus monitor also has an anti-glare display, which reduces reflected light and makes it easier to see what's on the screen.
Smart Contrast Ratio
The Asus VS228H-P boasts incredible contrast thanks to a feature exclusive to Asus monitors called the Asus Smart Contrast Ratio, which has a dynamic contrast ratio of 10000000:1 for this Asus monitor.
By altering the luminance of the monitor's backlight according to the content on the screen, this feature aids in delivering the optimum color quality and contrasts.
The Good
It's great for selecting photographs, editing videos, cutting audio, and writing prose for budget user. True color quality and good contrast with a lot of smart technologies make this monitor worth buying. .
The Bad
The screen may have dead pixels for no reason. The monitor does not pivot as claimed. There's too much motion blur and tearing on the screen.
Moreover, the high contrast ratio provides a lack of HDR support. The monitor stand is not sturdy.
Summary
Apart from its technical features, the Asus VS228H-P adheres to several environmental regulations to protect our environment, including a mercury-free LED backlight panel. It's an excellent choice for an office display, but only if the 22-inch screen size isn't too much of a hindrance.
How to Choose Budget Monitors for Your Home (The Buying Guide)
The basics are simple – A 27-inch screen with 4K resolution is great for a home office monitor. It has an IPS screen that can display 99 percent of the sRGB color spectrum and has a brightness of at least 250 nits.
Around the rear, there's a USB-C port that can charge a laptop, as well as HDMI and DisplayPort ports, and an ergonomic stand that adjusts for height and attaches to a VESA mount.
If you have a small, thin desk, 24-inch monitors are better. 4K (3,840 x 2,160) resolution looks amazing and is widely available on 27-inch and 32-inch panels. The 1440p resolution (2,560 x 1,440) can help you save money.
On a 32-inch screen, it's a little underwhelming. In a 27-inch or 32-inch display, avoid 1080p (1,920 x 1,080).
HDMI and DisplayPort are found on the majority of monitors. Due to the standard's lax certification, HDMI 2.1 could become a nightmare in 2022.
For recent laptops that embrace the standard, USB-C and Thunderbolt are fantastic since they enable for a single-cable solution. It is, however, costly.
Moreover, any monitor worth your time will have a stand that at the very least adjusts for height, typically between 100 and 150 millimeters.
It's preferable to have at least 95% of the sRGB color spectrum. Other gamuts, such as DCI-P3, are the most often touted, while Rec.709 and Adobe RGB are also available. These ranges are vital if your job necessitates them, as you may already be aware.
Frequently Asked Questions (FAQs)
Which size monitor is best for office work?
For home office, you may choose either 27 or 32 inches monitor.
Can you use a TV as a monitor?
Yes, via wireless casting or HDMI cable, you can use a TV as a monitor.
Do larger monitors increase productivity?
Yes, it does. Tasks are completed 52% faster in bigger monitors (University of Utah study report).
Is it better to have two monitors or one big one?
Dual monitors are better.
What happens if your refresh rate is higher than FPS?
When the refresh rate is higher than FPS the monitor will be unable to display all of the frames that your computer generates.
Conclusion
Before making a decision, you must balance the pros and cons of various specifications, technologies, and pricing points.
My suggestion is to buy a monitor with the expectation of keeping it for a long period. Cheap monitors are tempting, but they are limited in terms of input possibilities and image quality.
Consider the amount of money you're getting for your dollar when you're spending it.