Home office workers have been stressed about which desk is better for them as this place is the ultimate space where the tasks are done. Is it the standing desk or sitting for home office?
Both the desks have their benefit both ergonomically as well as health benefits. The sitting desk can give you more comfort for a longer period of time, but it can cause chronic back pain and other health issues.
Choosing the right type of desk for your home office is quite hard. It has become harder because of the current pandemic situation, which has reduced our movement. This guide will show which desk to select depending on your demands.
What Is A Standing Desk?
A standing desk is everything the name suggests. You can work on it while standing. Some electric standing desks can alternate between a standing and sitting desk while others remain fixed.
You can adjust the height of the standing desk according to your need. If it is your first time using one, then try adjustments, modifications, and accessories to ease the process of coping.
Why Should You Choose A Standing Desk?
There are several reasons why you should prefer standing desks more. Some of the reasons are:
Lowers the risk of cardiac diseases and diabetes
Helps to maintain a better posture for your body.
Prevents any chronic pain or unnecessary stress on your body.
Strengthen back and stomach muscles and allow them to support the body instead.
What Is A Sitting Desk?
A sitting desk is the most traditional type of desk where you work while sitting. Its biggest advantage is allowing comfortable sitting while you work.
There are several reasons for this sort of chair to be unhealthy for you, namely, promoting harmful diseases and back pain.
Despite all that, this type of desk is more affordable and accessible in the market.
Why Should You Select Sitting Desk?
Despite its many flaws, there are plenty of reasons why should prioritize a sitting chair more than any other-
Ensures maximum support and comfort as you work
Maintains extreme comfort if you are somehow injured outside the office.
Sitting chairs are more affordable and accessible
More varieties of sitting chairs are available
Standing Desk Vs Sitting For Home Office: A Quick Comparison Summary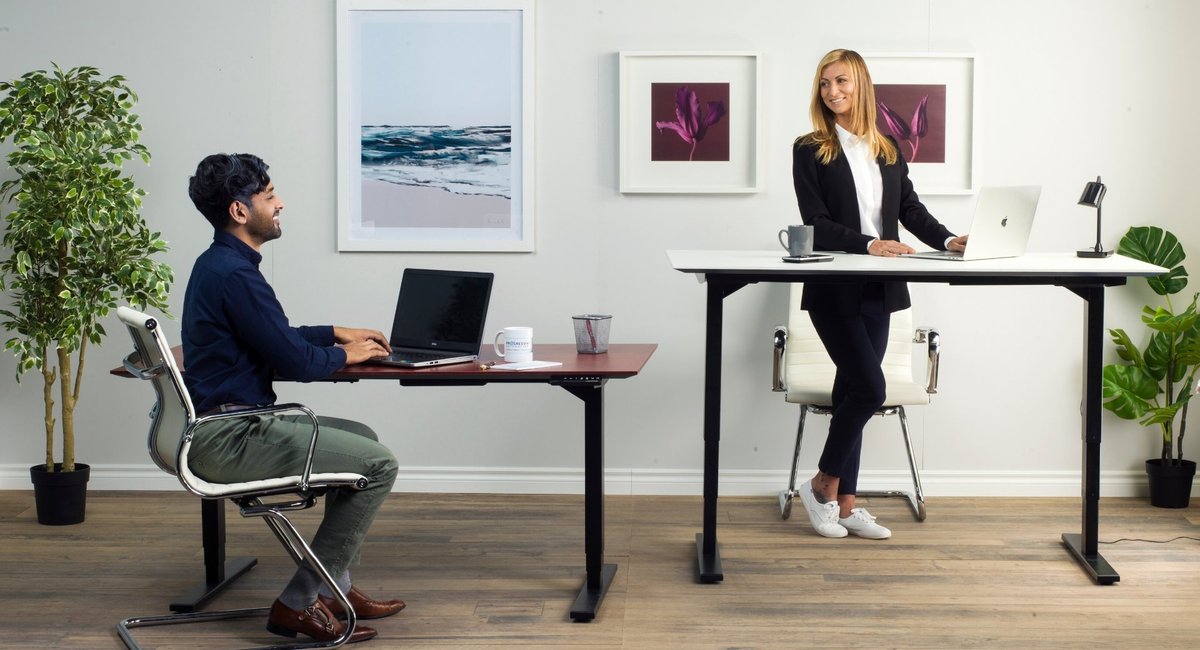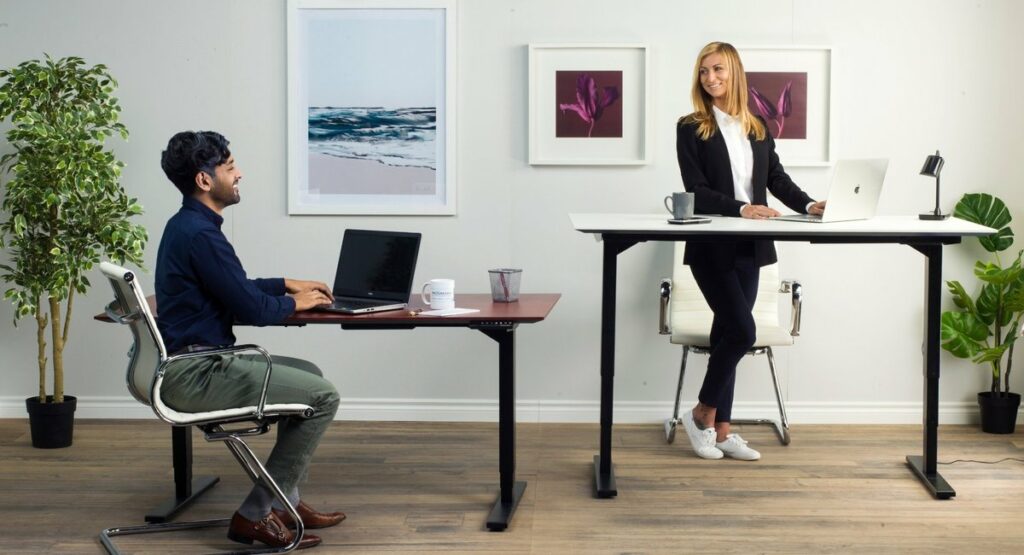 Both the desks are equally awesome, yet both of them have their pros and cons, which makes them better than their counterparts. Here is a quick summarization of their differences-
| | | |
| --- | --- | --- |
| Features | Standing desk | Sitting desk |
| Health benefits | Helps to reduce cardiac diseases, diabetes, chronic pain, etc. maintains proper posture. | Promotes health risk while sitting for a prolonged period. |
| Comfortability | Sacrifices comfort over health | Ensures maximum comfort at all times. |
| Accelerating productivity and confidence | Helps to increase concentration and productivity | Decreases productivity and concentration |
| Improving stress-level | Decreases the work stress | Adds more fuel to your work stress |
| Adjustability | Gives you the access to switch between sitting and standing and make adjustments according to your height | Only gives you access to changing your sitting style. |
| Price | Quite expensive comparatively | More affordable |
Health welfares:
Sitting desk is quite hazardous to your health if you think closely. Sitting for a long time at a fixed workstation is as harmful as smoking.
It increases cardiovascular diseases, diabetes, etc. If not, then it is sure to give you chronic pain in your body, specifically your back. It ruins your posture to some extent as well.
To all these problems there is only one solution which is switching to a standing desk at your workplace. It reduces your possibility of heart diseases, diabetes as well as chronic pain.
Standing Desk also improves your posture and helps to keep your body weight in control by losing calories.
Adjustability and Flexibility:
A standing desk is a desk for modern office employees that adjust to their height and requirements.
You can switch between a sitting and standing position in this sort of desk which the highest level of flexibility.
However, you can only enjoy better flexibility features as your budget bar increases.
A sitting desk is usually tiresome and frustrating at times. It is constructed in such a way that one size will fit all with no room for flexibility.
Comfort:
Despite all the incredible potentials of a standing desk, it could be quite uncomfortable as you stand the whole day or if you are new to the experience of a standing chair.
In some cases, when you injure yourself somehow, then a sitting desk is preferable to a standing one.
A sitting desk will ensure your maximum comfort while working when you are injured or need resting from time to time.
Acceleration of productivity and concentration:
A sitting desk is more likely to give you work fatigue as you sit in one place and keep working continuously.
There is no room for changing positions or flexibility. In addition to this, the sitting desk also gives you back pain.
On the contrary, standing desks will boost your productivity as you remain fresh all day long.
It allows you to switch from one position to another while working according to your need which helps you to remain alert throughout the day. This helps to accelerate your concentration as well.
Improvement of stress-level and mood-level:
As opposed to your sitting desk, which keeps you under constant pressure and works stress, the standing desk is more likely to improve your mental health by energizing your mind. It also helps to reduce your stress.
Budget:
Sitting chairs are easily available in the market almost everywhere. This makes them cheap. On the contrary, the standing desk, because of its added features, is quite expensive.
Which One Is Better: Standing Desk Vs Sitting Desk?
Standing desk takes the lead in this competition with all its fabulous features and incredible health benefits.
It is seen to improve your mental health as well, which is quite phenomenal indeed.
In contrast, we cannot forget the potentials of the sitting desk despite all its flaws.
We can only say that both these desks are equally superb which come with unique features that can attract a user.
If you prefer comfort and budget over your health, then you can go for a sitting desk.
Nevertheless, if your health is your prime concern, then you should go for a standing desk that gives all this and more.
Some recommended standing desks –
FEZIBO Height Adjustable Electric Standing Desk
With 3 preset buttons for 27.6 inch to 47.3 inch heights, top shelves with double drawer design, the lift system with sturdy steel frame to support up to 176 lb, this desk is a great addition to your home office. There are also splice board, cable management tray and 2 hooks.
SHW 36-Inch Height Adjustable Standing Desk
This ergonomic design standing desk comes with a maximum weight hold up to 30 lbs. This 36 inch wide desktop comes with over desk riser which is great for dual monitors.
Some recommended sitting desks –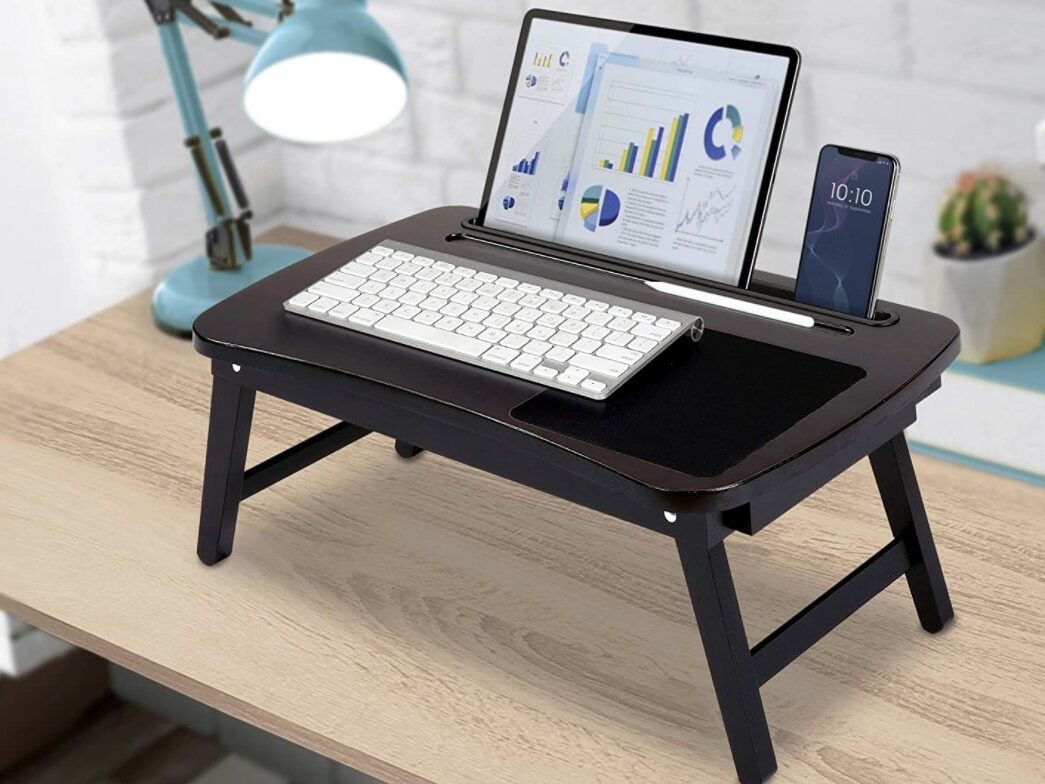 Astoryou Portable Laptop Bed Tray Table Notebook Stand Reading Holder with Foldable Legs & Cup Slot
This easy-to-use and sleek design table comes with a MDF and steel structure with table cup holder.The foldable legs make it easy to store. It can fit 11-17″ laptop computers.
BirdRock Home Portable Sit or Stand Desk 
This one is suitable for 13″ to 17″ laptop and a computer mouse with plenty of room. There is a storage drawer to keep your accessories. The lap tray's foldout legs allow you to turn your regular desk into a standing desk.
FAQs
Is a sitting desk more likely to promote weight gain?
A sitting desk confines you to a specific position for a long time where you perform almost all your activities. It restricts your movement to a minimal level. This causes your weight to increase drastically.
How does a standing desk improve your posture?
A standing desk stretches every muscle of your body to its natural extent. It strengthens your back and stomach and reduces pressure on unnecessary muscles. Thus, it improves lingering pain, which ultimately improves posture.
Does a standing desk burn calories?
Standing burns about 88 calories per hour. Thus, you can easily understand the amount of weight you will be losing while standing at the standing desk.
Verdict
Which is the winner of this ultimate battle between standing desk vs sitting for home office?
All we can conclude is that a standing desk has taken the lead at almost all lengths.
However, they both have their pros and cons. You can go for a folding one which can be used as both types. So, it is up to you to select what suits you better.
Related Posts: